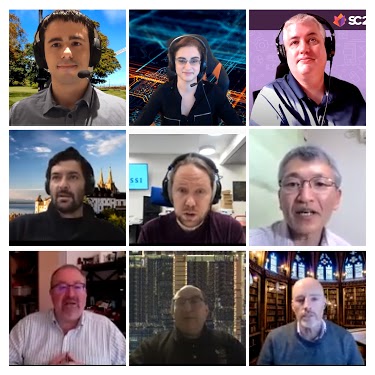 AHUG SC 2020 Virtual Event
While we could not meet in person at SC 20, AHUG was proud to sponsor a series of virtual talks and live panels on the state-of-the-art in Arm-related high performance computing research, tools, and products.
Presentations from HPC users and vendors are now posted on the new AHUG YouTube channel with talks in three different tracks. Three live panels were hosted on November 9th, 2020 with a subset of the speakers from these virtual talks. Slides and code examples are available at the SVE Hackathon website which was held on November 10th, 2020.
Event Information and Links
Engage with AHUG
November 4th, 2020 – Virtual links go live on AHUG YouTube channel
November 9th, 2020 8:00 AM Pacific Standard Time (PST) – Live roundtables with Arm HPC users and vendors
Panel 1: Arm silicon and solution provider vendor talks (8:00 – 8:55 PST)
Ben Bennet – HPE
Fabrizio Magugliani – E4
Brent Gorda – Arm
Tim Lin – S-Cube
Jean-Marc Denis – EPI
Craig Prunty – Silicon Pearl
Stephen Sachs – Amazon
Toshiyuki Shimizu – Fujitsu
Jeff Wittich – Ampere
Panel 2: On-site experiences of deploying Arm-based hardware and software (9:00 – 9:55 PST)
YouTube recording of the panel
Dan Ernst – HPE
Andrew Davis – UKAEA
Terje Kvernes – University of Oslo
John Linford – Arm
Ross Miller – Oak Ridge National Laboratory
Gilad Shainer – NVIDIA
Carson Woods – University of Tennessee, Chattanooga (Spack)
Andrew Younge – Sandia National Laboratories
Panel 3: Recent scientific results achieved on Arm (10:00 – 10:55 PST)
Si Hammond – Sandia National Laboratories
Stepan Nassyr – Juelich Supercomputing Center
Andrei Poenaru – University of Bristol
Guillaume Quintin – Agenium Scale
Roxana Rusitoru – Arm
John Stone – University of Illinois-Urbana Champaign
SVE Hackathon – November 10th, 2020
Arm hosted an SVE programming Hack-a-thon on November 10th, 2020.  This event was the first public SVE Hackathon on the Fujitsu A64FX CPU, which currently powers the #1 rated supercomputer on the Top500.  Remote access to two A64FX systems was generously provided by Fujitsu and the University of Bristol.
Please See the event page for the SVE hackathon with links to slides.